Gozona House
New townhouse in the north of Spain
Location: Luanco, Asturias
Year: 2022
Architects: isla (Marta Colón de Carvajal, Juan Palencia) with Mori Meana Architecture (Mateo Mori)
Team: Silvia Fernández, Beatriz González, Cristina Gutiérrez, María Gutiérrez, Teresa Meana, Leticia Olalquiaga Cubillo, Vojtech Rada
Status: Completed

In Luanco, a charming but traditional Asturian fishing village on the Atlantic coast of Spain, a family sought a functional, flexible, and playful house.



The house from the harbour
The project takes a creative approach in its interpretation of stringent traditionalist planning regulations in a bid to reimagine the typical Luanco house.



The facade opens itself like an advent calendar

A narrow and deep trapezoidal plot between party walls is flanked by a public cornfield to the south, and a private garden overlooking Luanco port to the north.




The depth and proportion of the plan necessitates a connection between the two main facades. From the entry hall, the large dining-kitchen-living room opens generously onto the courtyard, through a folding window that blurs the limit between interior and exterior.


Folding window connecting the living room with the patio


A playful winding stair carves a meandering passage through the house, adapting itself to land on each level to the central space of the house, place of direct connection between the two facades.


The stairs turning from the first to the topfloor

Details on the triple height space

On the first floor this space gives access to the two bedrooms, the laundry, and the bathroom. On the second floor the connection between the two facades is made by the extrusion of the "Ventana marinera" which at its intersection with the gable roof generates a cross space. The windows frame views of the harbor, the adjacent hills and serve as flexible spaces: desk, games area, living room, bedroom.



The 'ventana marinera' overlooking the Luanco harbour



Bedroom in the 'ventana marinera'

The four corners around the cross house three closed rooms: a bathroom, a wardrobe, and a utility room as well as a triple height above the first flight of stairs.


The opening
The view


This vertical space connects all levels and takes advantage of the chimney effect to naturally cool the house.


Crescent moon window

The large openings on the facade are clad with traditional wooden shutters, as is the front door, which allows for cross ventilation between the two facades in addition to controlling the privacy of the house. These shutters, the eaves and other details are painted a deep blue, in keeping with local tradition, integrating the house into the colorful Soledad Street.



The main facade

The courtyard, bound by an existing horseshoe-shaped stone wall, extends the interior of the house with polished concrete islands that encourage the growth of native vegetation. A small basin cools off the residents on the hottest summer days.



The basin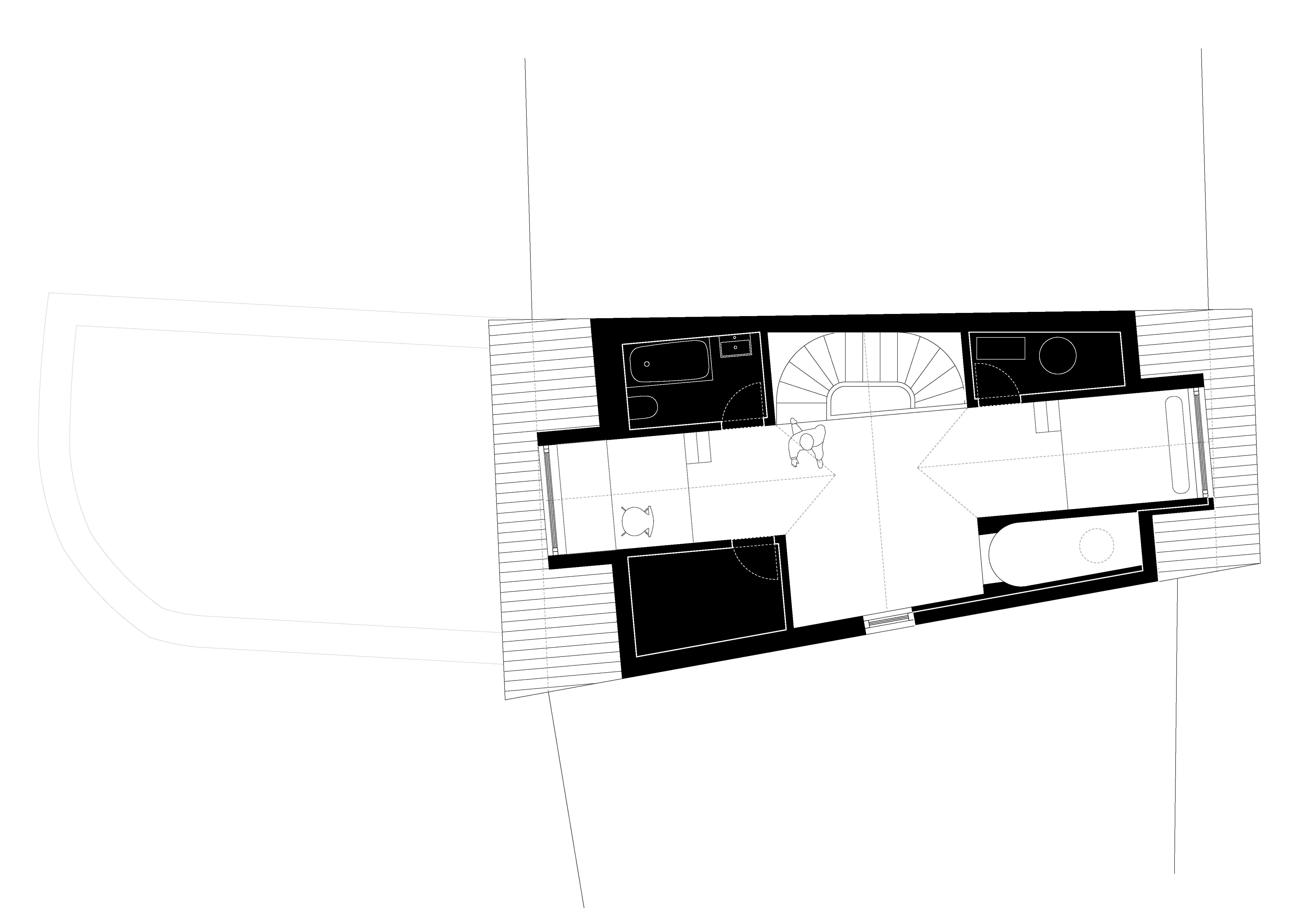 Plans